May 28, 2015 at 2:02 p.m. was the exact moment my life would change forever. I was waiting for the call, to hear how my mom's surgery went to clear a partial bowel obstruction. "Your mom came out of surgery ok," said my dad. "But….. Hold on, please give me a minute," he said as he tried to compose his voice. His emotions were intense as I heard him sobbing. I knew something terrible was wrong. "Your mom has cancer, she has less than one year to live." My head became clouded, as if I was in a dream. There's no way this could be true. My mom was the healthiest person I knew. She took supplements every day, tries to buy organic food, even her toothpaste is organic. They must be wrong. But they weren't. When they opened her up to clear the obstruction the doctor was shocked with what he saw. Tumors had spread throughout her abdominal cavity, so small they looked like grains on a sheet of sandpaper and tumors were in her colon. My mom had less than one year to live, and I'm not ready to lose her.
I dropped to the floor in tears, all I could say was "No, dad. No, no!"  I was lost, I did not know what to do. I went upstairs to tell my husband. I just laid in his arms while I cried and cried, so full of discouragement. One year from now I would have no one to call mom. The pain I felt is indescribable.

The next day, we left Las Vegas and headed out to Arizona so I could be by my mom's bedside. I had a conversation with the doctor to hear from him exactly what was going on with my mom.  "It's not good, we really need to get your mom better so she can leave. Most people in her condition don't even leave the hospital. You need to start looking into Hospice options," the surgeon explained. "The tumors are grabbing onto her intestines and pulling them in. I had to do a resection so she can at least eat and be comfortable during the rest of the time she has left.  She has less than one year."  He also made it very clear that chemotherapy would not help her. He told us there were no options for her. Mom was in the hospital 9 days, before being released by the doctor.
So our journey began. My mom is not like other moms – I consider her a "supermom", never giving up – the bravest woman I know. She was filled with so much faith and courage and she let nothing stand in her way. I made a decision to stay there with her for the summer while my kids were out of school. We immediately change mom's diet to an organic, gluten-free, low sugar, "very boring", "no fun" diet. But she wanted to live and was willing to do whatever she needed to.
Mom decided to see an integrative doctor and treat her cancer alternatively. Finally, the day we've been waiting for! Our appointment with Dr. Zieve! We enter the room to meet a man that was very soft-spoken, listened to every word mom had to say, answered every question that she had with compassion and understanding. Except one question. "What is your success rate for healing cancer," mom asked. I respected his response. "Cancer is a very personal disease," the Dr said. "I cannot answer that question for you. All I can tell you is we have fantastic results. But you have to have a positive attitude and the will to live."
Dr Zieve put together a proposal for us which included treatment such as vitamin C IVs, B17 IVs, mistletoe IVs and IPT (low dose chemotherapy). His plan is to hit the cancer cells from every angle and shrink the tumors. We also met with the nutritionists Victoria who was absolutely amazing.
But of course, this type of therapy is not covered by insurance. We all pulled together and found the finances to start this therapy. It is going to cost $6500 each month. The most expensive part was the low-dose chemotherapy which costs $1100 – $1500 per week. But how can you put a price on someone's life? We had to find the money!
Low-dose chemotherapy to me was absolutely fascinating. Through the IV, they lowered moms blood sugar to around 40. From what I understand, that makes the cancer cells open up searching for sugar. At that point, they inject this chemo agent ( Which is about 5% – 10% of a regular chemo dose) into the IV and the cancer cells suck it up and it begins to kill them from the inside. They then bring her blood sugar back up to normal, she eats and goes home.
She responded to the treatment amazingly well over the first 2 months. She was full of energy and had a huge appetite. Unfortunately, after 8 treatments money was running low. She stopped the IPT ( low-dose chemotherapy ) treatments and continued with vitamin C IVs, B17 IVs, mistletoe IVs. To her, this was still better than poisoning her body with chemotherapy. If she only had one year to live, she wanted to live it in the best condition possible.
Still, these other therapies totaled nearly $1800 per month. Finances were running low, so she had to cut back on some of those treatments as well. In November, things began to take a turn for the worse. Her stomach began to swell, and there was edema ( swelling ) in the legs. Then she was beginning to experience pains in her stomach again. It was the beginning of December, and we took her to the emergency room for the doctors to take a look at her.
Again, with little bedside manner, the emergency room doctors reminded her that her surgeon said she had less than a year to live. They recommended she call hospice so she could die comfortably. But don't forget, we are talking about "supermom" – and she was not going to let that doctor tell her she had no hope. Mom was against the conventional methods of chemotherapy. But in her current situation, she felt like she had no choice. she spoke with an oncologist at Ironwood Research Center in Scottsdale, Arizona and decided to try conventional low-dose chemotherapy options that were covered by her insurance.
She was on this therapy for six weeks. The first two weeks weren't so bad, but eventually fatigue set in, weakness, and the swelling in her legs never went down. She told me it was like carrying a ton of bricks in each leg. It took her breath away just to get back in bed. Eventually she couldn't even get off of the toilet on her own.
On February 4, I called mom to check on her. She said she was feeling very tired. "I don't want to worry you sweetie, but I want you to know I have been praying to God that if he can't heal me he will take me home in my sleep. I need you to prepare yourself." I said to her, "How do I prepare myself for this mom? I love you." I began crying at the thought of not having my mother with me anymore. "Please don't cry sweetie, it will be okay," she told me. That was the last time I spoke with my mom.
On February 5, 2016 I received a call from my dad, they were in the emergency room once again. She had collapsed as he was trying to help her off the toilet. She was unconscious for a short time, but after regaining consciousness it was very clear something was seriously wrong. Dad called the ambulance and they rushed her to the emergency room. The doctors gave the sad news that there was nothing they could do for her. Her blood pressure was 60 over 39 and they said she might be gone within the next two hours. Her red blood count was low, her white blood count was low and she was throwing up blood. They made arrangements to transfer her to hospice.
I received the terrible news around 9 PM. I immediately left with my sons and headed to Arizona. We arrived to the emergency room around 2 AM as they were preparing her for the transport to hospice.  I told my mom that they were taking her to her own private room where she could be comfortable, but she just looked at me shaking her head no. I told her it would be okay and that I would be right there with her. Around 3 AM they had her settled into her room where I stayed by her side for the next 36 hours.
The first night was a tough one. I laid next to her in a lounge chair holding her hand the entire night, literally waking up every 10 minutes to make sure she was still breathing. By morning time the drugs they gave her in the emergency room were wearing off, but she still wasn't completely there. She was able to answer yes or no questions by shaking her head and once in a while she would say "no" or she would tell us "I love you." But most of the communication was through head nods and eye contact. I thought maybe it was the medication that was lingering inside of her, but the nurse told me it was the fact that her body was shutting down.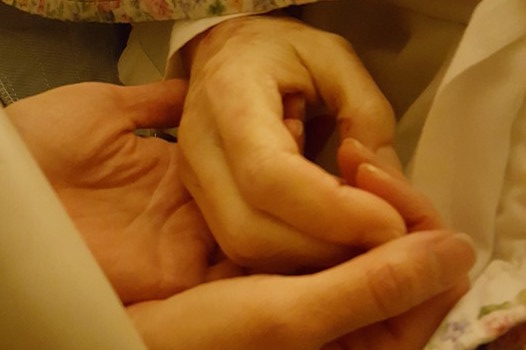 The last time I saw my mom before this was on New Year's Day after spending a few weeks with her in December. When I left, I told her goodbye and that I would see her in a couple months because I was having surgery on my hip. She knew as soon as I was better I would be right back by her side. Now we are here – if I would've known that was the last time I would see my mom in a functioning state, I would've hugged her longer. I would've hugged her tighter. I would've said so many more things to her than just "Bye I'll see you in a couple months."
But now here we are, in her last moments. Saturday was a day filled with laughter, tears and so many different emotions. She had so many of her loved ones surrounding her that day. We all took turns holding her hand and telling her our fondest memories about her. Many times we were able to get her to smile at our jokes and stories. At one point my son told me to come near the bed because my mom wanted me. As I approached the bed she was grabbing onto the handrails trying to lift up her weak body. She was struggling, using every last piece of strength that she had reaching for my shirt pulling me towards her. I put my arm around her back to support her and she put both arms around me and gave me the biggest hug. She held onto me telling me she loved me. It was the hug that I regretted not having the last time I saw her. It was like she read my mind. I will hold that moment special in my heart forever.
Later that evening, everyone left and the kids went to sleep in the recliners in another room. Once again, I stayed there laying by her side. It must've been around 10:30 PM I finally got some sleep. I was awaken by the two nurses changing her around 2:30 AM. The nurse on duty Sonia told me, "Jennifer, I need you to wake up. There have been some changes." I looked over at my mom and for a minute I thought she had passed away. Then Sonya told me, "Don't worry, she is still with us. But your mom is not responding anymore. She may only have a few hours left with us, you should call your family." She had gotten one step closer to her final moments. The process of death was happening, and it wasn't going to be easy.
Fortunately, the moment she arrived at hospice she was not in pain. She laid there peacefully without the help of any pain medicine. To us that was an absolute miracle that we were so grateful for. But now she was shutting down. It was just her and I and I wanted to say everything I needed to say to her. I wanted to make her as comfortable as I could. So for the next four hours, I read her most favorite Bible scriptures. I played her favorite gospel songs that we used to listen to in church when I was younger. I told her what a special Angel she was and that God was going to make her my guardian angel. I told her that Jesus was done building her mansion in Heaven and that they were creating a feast for her homecoming party. I let her know that everyone was on their way and when they got there it would be okay for her to leave. "Were going to miss you mom, but we release you on your journey. After everyone gets here and says goodbye mom, it's okay for you to go home."
I was able to spend those 4 private hours thanking her for everything she did for me. After all, I was pregnant at age 15 and she helped me raise my son so I could keep him, go to school and work full-time. She was such a blessing to my life for everything that she sacrificed. A stay-at-home mom, that chose to raise her children and give up her own desires for our future. She was the most selfless person I had ever met. And she did it all for us. I poured out my gratitude and love to her. I told her she was so special. It was Sunday, February 7, 2016 and the Lord was ready to take her home.
The rest of the family arrived around 5 AM and we spent the day playing her favorite songs. We searched YouTube for the song her and my dad had when they met which was Tony Bennett's "Shadow of Your Smile," we played her favorite Elvis gospel songs and I even found an episode of I Love Lucy on my phone that I played for her. That was one of her favorite shows! This day was all about her. And we were grateful to have her in our lives. Eventually at one point during that day, even though she was non responsive, she did a slight squeeze of my hand. I said, "Mom if you hear me and you know I love you squeeze my hand." Her hand slightly tensed up around mine and her thumb grazed my fingers and I knew she was still in there, hearing everything I said. I got so excited and said "Yay mom! I love you, I love you, I love you!"
It was around 12 o'clock noon and mom was fading. I was scheduled to leave around 4 PM because kids had school the next day, proficiency exams for graduation that could not be missed. I struggled with leaving her because every time I would leave her in the past to go home she would get very sad. She always told me she felt very safe with me and I always knew what she wanted, and I always made her food just right. She absolutely loved having me around and she always made sure I knew it! I told her, "Mom I have to leave at 4 PM. I don't want to leave you. I want you to know that we are all okay with you letting go and transitioning over to your new life. If you don't, it's okay I will be back on Thursday. If you decide to go home while I'm gone, that's okay too, I understand. But I just want you to know I have to leave soon." The look on her face turned to sadness, a tear fell down her cheek and it absolutely broke my heart.
I had to go outside and get some air. It just got to the point where it was so overwhelming I did not know how much more I could take. I stood outside in the sun and begged God to take her. I begged God like I had never begged before. I pleaded for mercy on her as tears streamed down my face. I had been by her side through her entire fight and I wanted to be by her side when she took her last breath. But I knew it would be whatever God's will is, so I wiped the tears from my face and headed back into her room to hold her hand once again.
Around 1:45 PM things started to change again. Her eyes were getting glossy, and her breathing was mixed with gurgling noises. Saliva began seeping out of the corner of her mouth. I put a washcloth under her chin and continued to wipe the saliva from her face. We called in the nurse to see what the problem was, and she said she would get a suction machine to try to clear her mouth. At the same time they came in to change her diaper and asked everyone to leave while they did so. I asked if I could stay, and they said of course.
Everyone cleared the room, and the nurse suctioned out moms mouth. They began to change her pants and clean her up when suddenly mom's eyes began to bulge and her pupils dilated. The gurgling got worse and her breathing was getting shorter. They quickly covered up mom's pants and called the family into the room, this was it. We all gathered around the bed and said a prayer asking for God to receive her. It was at that point mom took her final breath.
As well as I thought I had prepared for this moment, 36 hours at her bedside, there is nothing that will prepare you for losing your mother. I held her hand and caressed her face and cried uncontrollably. I just lost my first best friend, my first love, my mother, my everything. Who was I going to call when the next great thing in my life happens? Who am I going to call when I can't remember that one ingredient in that recipe she taught me, that I haven't made in a long time? More importantly, who I going to call Mom? Who am I going to check on every day to make sure she's okay, as I have nearly every day of her fight. Who's going to drag me out of the house at 4 AM for the Black Friday sales (which I would never ever go to if it weren't for her persistence). And who am I going to call on Mother's Day?
The pain has been so intense since Friday when I received the call from my dad. I struggled with letting her go, and not being selfish with my own wants and needs. They say we don't cry for our loved ones who have passed, we cry for ourselves. Since I lost my beautiful mommy yesterday, the emotions come like waves. Except waves are easier to predict. The emotions of sadness hit me out of nowhere. I could be fine, thinking about one thing that all of a sudden I'm drowning in my own tears. They say grieving takes time. And I've lost loved ones before, so I understand about the grieving process. Well, I thought I did anyway. What I found out is nothing compares to the loss of your mother. I can't imagine this pain will ever go away. But I can only hope that it will ease over time. I know my life will never be the same again. I've lost my best friend, my confidant, my mother.
For now I cherish the memories and I'm allowing myself these tears. I am thankful to God that she is no longer in pain and that my request was honored that I could hold her hand while she takes her last breath. She was there for my first breath, and it's only right that I could be there for her last. I will cherish her memory forever in my heart. I know she will always be with me – in the smell of flowers, I will remember her; in the color lavender her smile will come alive; in the stars at night I will know she's looking down on me. Her spirit will always be with me and I'm so grateful that I was able to take this journey with her. ~ I'm forever yours mommy, love Jenny.